VTwin Triple Tree 50/55mm (2.375" Offset) 214mm spread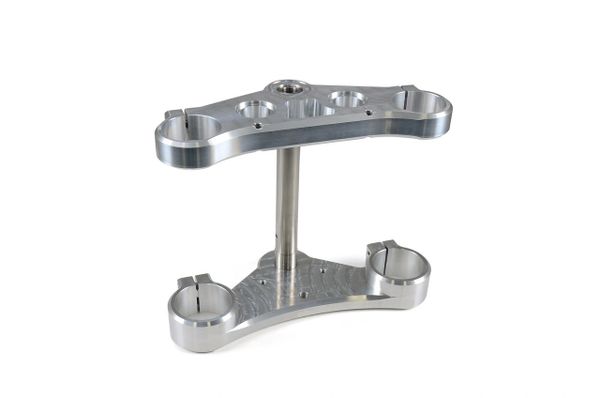 VTwin Triple Tree 50/55mm (2.375" Offset) 214mm spread
*** READ COMPLETE DESCRIPTION BEFORE PLACING ORDER ***
Known Fitment Applications:
Harley-Davidson® FXR (87-94 AN 99-00)
Harley-Davidson® Dyna (90-06)
Harley-Davidson® Sportster (87-03)
All remaining years of FXR, Dyna, and Sportster will accept the clamp with small modifications. The clamp will also fit custom applications utilizing a 1" DIA Harley-Davidson® steering stem. This is a bolt on application for any frame with the fork stop on the front of the neck; all other frames will require a fabricated fork stop.
Direct bolt-on triple clamp for popular Harley-Davidson® models

(See product details tab for listing of known fitment applications)
Allows use of popular OEM upside-down (inverted) sportbike forks
Reversible lower clamp for maximum fork height adjustability

Lower clamp is tapped for fork stops and a clearance hole for headlight mounting
Upper clamp is tapped for headlight eyebrow
Accepts handlebars with a 3.5" center-to-center spacing
Threaded steering stem and jam nut to allow proper setting of bearing preload
Steering stem is threaded 5/8"-18 for steering stem bolt
Two (2) 5/16"-18 threaded holes for fork stops
One (1) 3/8" clearance hole for headlight mounting
Uses OEM H-D® (1" ID) bearings and seals (not included)
Stock Dyna offset of 2.375" for 18"+ wheels sizes
214mm fork spread center-to-center e.g. Gen 2 Hayabusa
(See technical BELOW for specific applications)
CNC machined 6061-T6 billet aluminum upper and lower clamps
300 series stainless steering stem
All stainless steel hardware
Laser engraved logo
Natural finish
Weighs only 5.8 lb.
Designed, machined and assembled in the USA
TECHNICAL

55mm fork assembly suggestions:

Hayabusa (All Years) 214mm – 2 3/8" offset is typically more in line for use with custom 18" or 19" front wheels (depending on year, chassis, rake, etc. - see your custom builder) (most custom builders prefer Gen 2 Hayabusa front end assemblies due to their radial brake caliper design)
ZX-14/R (All Years) (can possibly be used/rotor to caliper centerline must be verified and/or adjusted)
ZX-10R (All Years) (can possibly be used/rotor to caliper centerline must be verified and/or adjusted)
GSX-R1000 (09-16) Will fit, but are not suggested due to difficulty in fork design (no bottom bolt to disassemble, etc.)

(This is not a complete listing of options, these are suggestions based on known information)